What's happening in the world of bathroom remodeling these days? According to a new Houzz survey, it looks like consumers are embracing the phrase "bigger is better," at least in some regards. From larger showers, to greater accessibility, to double sinks, learn why bigger is in right now in this week's blog.
Bathroom Remodeling Trends for 2015
The majority of homeowners are keeping their bathroom about the same size, but many of the components of the bathroom are increasing.
Bigger Showers
Homeowners are definitely looking to expand the available room in their showers. 2 out of 3 homeowners said they increased the size of the master shower. This trend was most popular here in the Northeast, with 72% of homeowners opting for a larger shower size. Nationally, 84% of homeowners did some work on their master shower during a master bathroom remodel.
Accessibility
As the Baby Boomer generation ages, we're seeing the popularity of accessible features in master bathroom increase significantly. 71% of boomers added a handheld shower head, 55% added a seat in shower, 34% added grab bars in the shower, and 19% added a curbless shower entry during their master bathroom remodel.
Style is the Most Important Factor in a Bathroom Remodel
Style and beauty were far and away the most motivating factors in a bathroom remodel. 83% of respondents said their first priority was ensuring their new master bathroom was stylish and beautiful. Compare this to the next most common first priority, a spa-like atmosphere, at 41%.
Sinks: Make it a Double
65% of homeowners are choosing to add a second sink in their new master bath, 11% more than last year.
Tile and Paint Still King
When it comes to flooring and wall finishes, tile and paint are still the two most popular options. Ceramic or porcelain tile account for a total of 76% of master bathroom flooring finishes. Paint makes up 71% of master wall finishes, with ceramic and porcelain tile accounting for a combined 46%.
Lighting the Way
What kind of lighting do we want in our bathrooms? About half of all bathroom remodels include multiple lighting types for a unique effect. 61% of master remodels included recessed lighting, and 60% included wall sconces.
Budget
The most common budget range for a master bathroom remodel was between $10,000 – $25,000, at 30% of all remodels.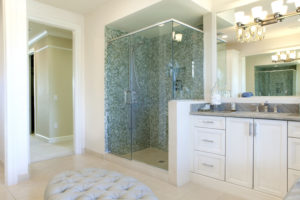 Remodeling Your Bathroom in York
Are you interested in learning more about bathroom remodeling in York, PA? Contact C.C. Dietz! If you're ready to remodel, we're here to help. If you'd like to schedule a free consultation, please contact us by calling 717.755.1921 or visit our website! Also, be sure to follow us on Facebook, Twitter, Google+, and LinkedIn.