Have you made the decision to remodel your kitchen this year? Lots of homeowners want to remodel their kitchen, but once you decide to do it, it can be hard to know how to get started. Let this guide help you out! This week, we'll talk about some of the important questions to ask when planning your kitchen remodel. These should help you start brainstorming and give you a better idea of what you're looking for in your new kitchen.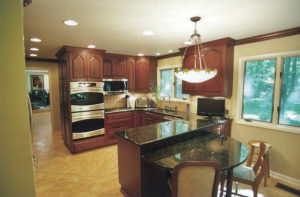 2 Questions to Ask About Your Kitchen Remodel in York
How do I want to use the space?
One of the main factors that will inform your kitchen remodel is how you plan on using the space. Do you want the kitchen to serve as a place to entertain guests? Or do you want it to be devoted to function?
If entertainment is one of your goals, a kitchen island is a great thing to add. Islands serve as a great place to gather around with guests for appetizers, wine, or a post-dinner desert.
If you're a top chef, then you might want a kitchen more geared towards your own needs than those of others.
Kitchens also serve as multi-purpose rooms for many families, who might spend time at the kitchen table paying bills, sending emails, or having conversations. In this case, having a central space in the kitchen that can accommodate a table and foot traffic around it is an important consideration.
What kind of chef are you?
How invested you are in the task of being a chef is another factor that will play a role in the design of your new kitchen.
Are you going to need specialized equipment? For example, a baker might want a station in the kitchen designed for baking needs.
Do you prefer fresh food or packaged food? If you're always coming home with fresh food, you might be able to get by with a smaller refrigerator, and smaller storage space in general. If you like to have plenty of food stored and on hand, storage space should be a bigger factor in the design.
Remodeling Your Kitchen in York
Are you interested in learning more about kitchen remodeling in York, PA? Contact C.C. Dietz! If you're ready to remodel, we're here to help. If you'd like to schedule a free consultation, please contact us by calling 717.755.1921 or visit our website! Also, be sure to follow us on Facebook, Twitter, Google+, and LinkedIn.
Tags: kitchen remodel York