As the Baby Boomer generation moves into retirement, the demand for accessible features in bathrooms is increasing noticeably. Many homeowners are looking to make their bathrooms easier to navigate, and incorporate safer features for ease of use and peace of mind. In this week's blog, we'll talk about some of the features that can be added to your bathroom during a remodel to make it more accessible and easier to use for you.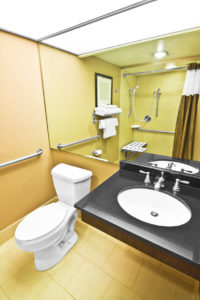 Accessible Bathroom Remodeling in York
Shower Accessibility
A slippery shower presents a safety hazard for homeowners of any age. Fortunately, there are a number of upgrades that can make a shower safer and more accessible.
Curbless shower entry – Stepping over the tub onto a wet surface presents a slipping hazard. This can be addressed by either installing a tub with a door that can be opened and closed to allow entry, or eliminating the tub altogether and making it so you don't have to step over anything to get into the shower.
Shower seats – For those who have difficulty standing for long periods of time, shower seats offer a comfortable and welcome place to rest.
Shower grab bars – Installed at strategic locations throughout the shower, grab bars give an occupant extra stability and support.
Handheld shower head – Handheld shower heads allow occupants to more easily maneuver the water in the shower.
As we noted in last week's blog, 71% of boomers added a handheld shower head, 55% added a seat in shower, 34% added grab bars in the shower, and 19% added a curbless shower entry during their master bathroom remodel, according to a Houzz survey.
Toilet and Sink Accessibility
Toilet and sink accessibility involves a number of things.
Increasing space around and in front of the toilet. This makes it easier for those who are handicapped or with mobility issues to get to the toilet.
Installing a toilet specifically designed with accessible functions.
The sink or vanity may be lowered to offer easier access.
To learn more about accessible bathroom design, talk to C.C. Dietz today!
Remodeling Your Bathroom in York
Are you interested in learning more about bathroom remodeling in York, PA? Contact C.C. Dietz! If you're ready to remodel, we're here to help. If you'd like to schedule a free consultation, please contact us by calling 717.755.1921 or visit our website! Also, be sure to follow us on Facebook, Twitter, Google+, and LinkedIn.