Thinking of remodeling your kitchen in York? You've no doubt wondered whether it would be a good idea to get an island for your new kitchen. Islands have become more and more common, and are definitely an in-demand feature for new kitchens these days. Islands offer a number of benefits like increased storage space. However, there are also some drawbacks to kitchen islands, such as reducing the flow of traffic in the kitchen. In this week's blog, we'll cover the pros and cons of kitchen islands to help you decide whether a kitchen island is right for your new kitchen.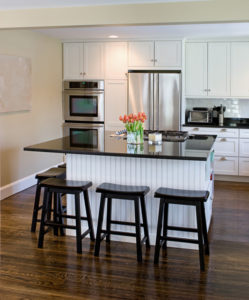 Should I Get a Kitchen Island?
Pros
Increased Storage Space
If you can never have enough storage space, then a kitchen island will definitely help. Kitchen islands add easily accessible storage space in a central location in your kitchen.
Increased Food Prep Space
Islands also give you more space for food prep. If you're a big time cook, you'll be glad to have the extra space.
Add a Sink or a Range
Another great thing you can do with a kitchen island is add a sink or a range. This helps limit the back and forth that would otherwise occur with food prep between the main countertop and the island.
A Place to Entertain
Kitchen islands also serve as a gathering place when you have guests over. Lay out some appetizers and sit around the island before moving over to the dinner table for the main course.
Cons
Reduced Traffic Flow
The main disadvantage of an island is that it reduces the flow of traffic in the kitchen and limits the number of people that can work there. If you have a small kitchen, an island might not be feasible.
Try Before You Buy
What can you do if you're not sure whether you should go for a kitchen island or not? Build a mock island! All you need is some cardboard or plywood that you can put together and place in the kitchen for a few days. Work around it and see how it feels. This is a great way to get a feel for what it's like to have a kitchen island, and whether an island is right for you.
Kitchen Remodeling in York
Are you interested in learning more about remodeling your kitchen in York, PA? Contact C.C. Dietz! If you're ready to remodel, we're here to help. If you'd like to schedule a free consultation, please contact us by calling 717.755.1921 or visit our website! Also, be sure to follow us on Facebook, Twitter, Google+, and LinkedIn.