Sometimes the hardest part of a project can be getting started. Once you get a few ideas in your head, things seem to follow a lot more easily and naturally. So if you're planning your bathroom remodel in York but having a hard time getting started, this blog is for you. Here are a few ideas to get you off on the right foot and hopefully inspire plenty more ideas for your ideal bathroom design.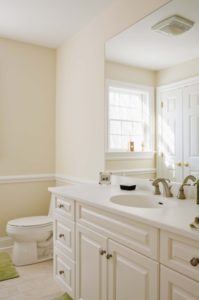 6 Ideas to Inspire Your Bathroom Remodel in York
Use a Favorite Spot
Do you have a favorite bathroom in a hotel or restaurant in the area? Or maybe one you visited a long time ago? Think of all of the bathrooms in them and pick out what you liked to help serve as a source of inspiration.
Go Green
A popular trend is to add a plant in the bathroom. Plants give the space a softer, more natural feel and also help clean the air in the bathroom. Now that's a breath of fresh air!
Or Neutral
In terms of painting, neutral colors are always a good way to make your space seem bigger. This works especially well with smaller bathrooms. Or if you want to make a bolder statement, pick a bolder color. No need to worry about how this might affect the appeal of your bathroom to a buyer, because it's easy to change the color whenever it comes time to sell. This bathroom remodel in York is for you!
Fixture Finish
There are so many different kinds of finishes for bathroom fixtures that you're bound to find one that jumps out at you. Polished chrome and matte finishes are always in style, but darker finishes like bronze and even wrought iron are becoming more popular now too.
The Right Lights
Lighting is an often overlooked aspect of bathroom design. The right lights can really make your space. You'll want a bright overhead light for mirror use, but consider adding a dimmer for a little ambiance.
Deluxe Shower
Taking a shower doesn't have to be a one-dimensional experience. Splurge a little to make taking a shower one of the best parts of your day. From rain-style showerheads to tile floors, there's no reason not to go all out with your shower's design. You're going to be using it a lot!
Are you interested in learning more about bathroom remodeling in York, PA? Contact C.C. Dietz! If you're ready to remodel, we're here to help. If you'd like to schedule a free consultation, please contact us by calling 717.755.1921 or visit our website! Also, be sure to follow us on Facebook, Twitter, Google+, and LinkedIn.
Tags: bathroom remodel York