If there's one thing you're always looking for in your kitchen, it's more storage  space. Finding space isn't always easy, but there are a number of things you can do to make more space. Learn about some of your options for adding storage space to your kitchen in York at an affordable cost in our blog.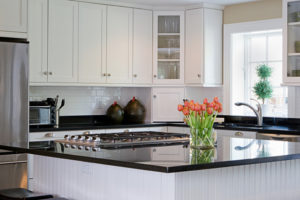 6 Affordable Ways to Get More Storage Space in Your Kitchen in York
Racks
Racks come in tons of configurations, colors, and materials. Hang a rack above the dishwasher to make unloading easier, or a rack for pots over the cooktop. Racks are a great way to add storage while still keeping things out in the open.
Shelves
Shelves are another great open storage option. Hang shelves on walls or the ends of cabinets to store everything from cookbooks to spices.
Dividers
Use dividers to organize your cabinets and drawers and prevent contents from getting mixed up. How often have you opened a drawer only to find that the plasticware and lids are all mixed up and impossible to sort through? Dividers are a great way to get more organized.
Stacking Shelves
Stacking shelves give you double-decker storage on countertops, in cabinets, and even on existing shelves.
Hooks
Hooks and pegs are a creative storage option that turns your backsplash into a convenient grab bag of kitchen items. Throw a few hot pads, cups, and cooking utensils on some hooks so they're ready to get at a moment's notice. Plus, pegs and hooks are super cheap!
Baskets
Baskets are another fun and creative storage option for your kitchen. You can get any kind of basket and match it to your kitchen's décor. Use a basket to store clean dish towels, or cloth napkins for special occasions.
Kitchen Remodeling in York
These solutions are great for adding space in a pinch, but if you find that you're still looking for more space in your kitchen, you might want to think about remodeling. Renovating your kitchen will give you a blank slate to work with, so you can get the storage space you need.
Are you interested in learning more about remodeling your kitchen in York, PA? Contact C.C. Dietz! If you're ready to remodel, we're here to help. If you'd like to schedule a free consultation, please contact us by calling 717.755.1921 or visit our website! Also, be sure to follow us on Facebook, Twitter, Google+, and LinkedIn.