How long has your basement sat unfinished and relatively unused? Lots of people have unfinished basements in their homes, and it's not surprising that we often just forget about our basements entirely. There's nothing to do down there, right? Not if you have a finished basement! By finishing your basement in York, you can take advantage of tons of space that's available right below your feet, and create a space with a completely new dynamic in your home. Learn more about why you should refinish your basement in this week's blog.
4 Reasons to Refinish Your Basement in York
Return on Investment
Finished basements are always in demand, and make your home that much more attractive to buyers. In 2014, the national average return on investment for a finished basement was 77.6%! In addition, on a cost per square foot basis, finishing your basement is actually one of the most affordable home improvement projects out there.
Create New Space
You don't have to add an addition to your home to create a new liveable space. An unfinished basement is full of space and untapped potential. If you've been wanting to add liveable space to your home, the first place you should look is your basement.
Create Your Dream Room(s)
Lots of people like to use their basement as an opportunity to create a room they always wanted to have in their home but didn't have space for on the first on second story. You can turn your basement into your own home theater setup, a game room, bar, studio space…and those are just a couple ideas. If you've been dreaming of having a certain room in your home, you can use a basement to make it happen. Plus, many people have enough space in their basement to create more than one room, which means even more potential!
Or Keep it Practical
Do you find your growing family is making the house feel smaller? But, you don't want to move because you like where you live. The solution is a finished basement, which adds liveable space that can be used for everything from a play room for the kids to additional bedrooms. Other practical uses for the basement include a home office space, home gym space, or spare bedrooms for guests.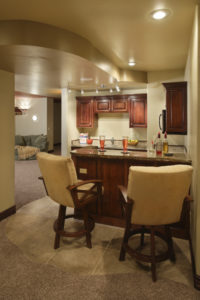 Are you interested in learning more about finishing your basement in York, PA? Contact C.C. Dietz! If you're ready to remodel, we're here to help. If you'd like to schedule a free consultation, please contact us by calling 717.755.1921 or visit our website! Also, be sure to follow us on Facebook, Twitter, Google+, and LinkedIn.
Tags: finish basement York