So you've decided it's time to remodel your bathroom in York. Now what? Knowing that you're finally go to be rid of that old color scheme and design is a great feeling, but taking that first step towards actually getting the process going can be a little overwhelming. Where do you even start? In this week's blog, we'll talk about the first steps you should take when planning to remodel your bathroom. It's not nearly as hard as it might seem!
Planning Your Bathroom Remodel in York
Put Your Project into Context
First, consider the project in the context on your homeownership. If you're going to move in 5 years or less, it's smart to remodel with a resale in mind based on current bathroom trends. If you're planning to be in your home for longer than that, remodel for yourself.
Make a Wish List
First, take a long hard look at your bathroom and make a wish list for everything you'd like to change. Don't hold back at this point, just focus on anything and everything you want to redo for your new bathroom.
Prioritize
Now, take a look at your list and order your wishes by priority levels. A good way to do so is to separate them into things you must have, things you want to have, and things you'd like to have but could do without. This plays right into the next step.
Budget
Now it's time to factor in your budget. Set a level of spending that you're comfortable with, but you should also be comfortable with the fact that your budget may be exceeded by 10-20 percent due to the discovery of unexpected problems that will cost money to fix. Once you have your budget, do some research on how much the items on your wish list might cost. From here you can determine how many of your must-haves and want-to-haves you can actually fit into budget.
Talk to a Remodeling Contractor
Now it's time to start talking to contractors about remodeling your bathroom in York. You don't have to make a decision about which one to go with at this point, just talk to a few. Contractors can give you better estimates that will show you how much what you want will cost. When considering contractors, make sure to get references and itemized bids.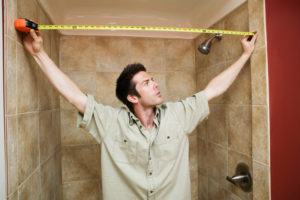 Are you interested in learning more about bathroom remodeling in York, PA? Contact C.C. Dietz! If you're ready to remodel, we're here to help. If you'd like to schedule a free consultation, please contact us by calling 717.755.1921 or visit our website! Also, be sure to follow us on Facebook, Twitter, Google+, and LinkedIn.
Tags: bathroom remodel York