Are you planning on kitchen remodeling in York? Sometimes it's easier to plan for a remodel when you break it down into bite-size chunks. With this in mind, we're going to dedicate this blog to how to choose a backsplash.
The backsplash performs the important function of keeping any food debris from staining the walls in your kitchen, but its form is just as important as its function. Backsplash materials are in no short supply, so here are a few to consider when planning out your kitchen remodel in York.
Kitchen Backsplashes
Stainless Steel
Stainless steel backsplashes give your kitchen a nice modern look. They're very resistant to heat and moisture, and make spills easy to wipe up. Oily fingerprints, however, can be a little more difficult to clean. Stainless steel is also on the expensive side.
Marble
Marble is a very elegant backsplash material. Its durability and beautiful looks are a great match for any kitchen. Pricing can vary widely. One option is to go for marble tiles instead, which are at the low end of this spectrum.
Ceramic Tiles
Ceramic tiles will never go out of style as a backsplash material. There is a virtually limitless variety of colors and styles of ceramic tiles to use for your backsplash. This makes a great match for your tile countertops. Ceramic tiles are resistant to moisture, heat, and grease, and are very easy to clean, though you will have to clean the grout on a regular basis. Again, costs vary widely, but you can almost always find something to fit your budget.
Granite
If you want granite countertops, a granite backsplash is the perfect match. The advantages of granite include durability, high resistance to moisture, and its always beautiful aesthetics. Granite can be expensive, but if you can find a local variety that doesn't need to be shipped, you can bring costs down.
Subway Tiles
The simple look of subway tiles is great for an understated yet timeless design that pairs well with any kitchen. Subway tiles are also very affordable, making them great for budget kitchen remodeling in York.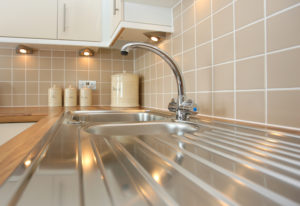 These 5 kitchen blacksplashes are a good place to start, but that doesn't mean there aren't other potential backsplash options to choose from. If you're interested in learning more about backsplashes and kitchen remodeling in York, contact C.C. Dietz! If you're ready to remodel, we're here to help. If you'd like to schedule a free consultation, please contact us by calling 717.755.1921 or visit our website! Also, be sure to follow us on Facebook, Twitter, Google+, and LinkedIn.
Tags: kitchen remodeling York