Do you want to remodel your bathroom in York without having to make a big investment? It's possible to give your bathroom a makeover that gives it a fresh new look without breaking the bank. While you might not be able to move the toilet or the tub, there are still plenty of things you can do to make your bathroom look like new on a small budget. You might be surprised at how much can be achieved! Read on to learn more.
Ideas for Budget Bathroom Remodeling in York, Pa.
New Paint
Something as simple as a fresh paint job can make a world of difference. The color of your bathroom is the background against which everything else stands out. Change the background, and you change the way everything else looks too. This is the easiest way to make a big change in your bathroom for an affordable price. Make sure to use mold-proof paint to deter mold growth on your bathroom walls and ceiling.
Tub Refinishing
An old tub can add many years onto your bathroom's look. Over time the finish can chip and become dull, leaving your tub looking lifeless. Refinishing your tub will breathe a new life into your bathroom. Not only that, it's much less expensive than installing a completely new tub or relocating the tub.
New Bathroom Hardware
Installing new hardware in your bathroom is another very affordable way to renew your bathroom's look. New doorknobs, cabinet knobs, faucets, and storage shelving can really spruce up a tired looking bathroom.
Refinish the Vanity
As the largest horizontal surface in your bathroom other than the floor, the vanity top gets a lot of attention. If your vanity top is stone, refinishing it can bring out a lot of the luster that may have faded over the years. If it's laminate, you can install tiles over it to give the top a nice new look.
Frame Your Bathroom Mirror
Framing a bathroom mirror helps define it as the focal point of the bathroom and give it a little more personality.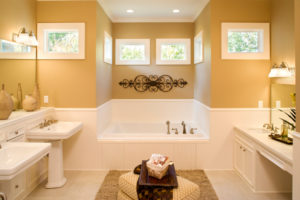 Are you interested in learning more about bathroom remodeling in York, PA? Contact C.C. Dietz! If you're ready to remodel, we're here to help. If you'd like to schedule a free consultation, please contact us by calling 717.755.1921 or visit our website! Also, be sure to follow us on Facebook, Twitter, Google+, and LinkedIn.
Tags: bathroom remodel York