If you're installing a new custom kitchen in York, Pa., one of the kitchen components you should consider is custom kitchen cabinets. You can either get cabinets that are mass produced, or cabinets that are custom made to order. There are a number of benefits to custom cabinets including improved quality and a greater variety of options than pre-made cabinets. Learn more about the benefits of custom kitchen cabinets in this week's blog.
The Benefits of Custom Cabinets for Your Custom Kitchen in York, Pa.
Quality
Pre-made cabinets are mass produced at a factory. Custom cabinets, on the other hand, are built to order by skilled craftsman. They're made out of solid plywood as opposed to particle board, and feature improved features like dovetail joints, wood glue blocks, and drawer slides that are hidden undermount. They might be more expensive, but custom cabinets will last longer and give you the return on investment that you expect.
High Degree of Customization
Pre-made cabinets come in a number of configurations, but custom cabinets can be designed to your exact specifications. No matter what wood, what style, what finish, or what hardware you want, you can get it all in one place with custom cabinets. The finish is guaranteed to match across all the cabinets, as opposed to pre-made cabinets, which might have non-matching materials due to being manufactured at different times.
Designed for You
Custom kitchen cabinets allow you to design a layout that facilitates your workflow in the kitchen. Design cabinets with specific needs in mind such as a spice cabinet or cutlery cabinet. If you're tall, you can order taller cabinets to take advantage of upper space along the kitchen walls. Custom cabinets are built just for you.
Fit Unusual Designs
Does the layout of your kitchen leave you with an unusually sized space that you want to take advantage of? Custom cabinets can be designed to fit this space perfectly so it doesn't go to waste.
For a truly custom kitchen, consider the benefits of custom cabinets. You may find that they're well-worth the investment.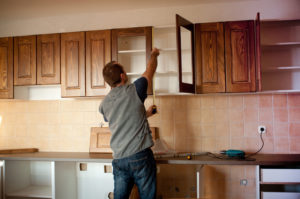 Interested in learning more about custom kitchens in York, PA? Contact C.C. Dietz! If you're ready to remodel, we're here to help. If you'd like  to schedule a free consultation, please contact us by calling 717.755.1921 or visit our website! Also, be sure to follow us on Facebook, Twitter, Google+, and LinkedIn.