Thinking about remodeling your bathroom in York? If this is your first time, it's important to know about some of the mistakes homeowners make when remodeling that can end up costing them time and money. Learn how to avoid these common bathroom remodeling pitfalls in this week's blog!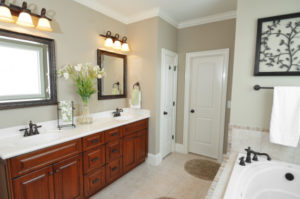 5 Mistakes to Avoid When Remodeling Your Bathroom in York
Don't Rush the Planning
Many homeowners want to get to the project as soon as possible, but the importance of adequate planning cannot be understated. There's a lot of work that needs to go into the remodel before any actual physical work is done. Not spending enough time on the planning phase could cause you to have to spend more time or money during the actual remodel.
In addition, some people rush through the planning stage, only to change their minds about what they want once the remodel is halfway finished. This means you'll have to backtrack and again, spend more time and money on the project. Let the ideas you have percolate for awhile before you settle on one. If you do this, you're more likely to stick with what you've chosen.
Don't Skimp on Important Components
There are places where you can choose more affordable components in your bathroom, but there are some things you definitely shouldn't cheap out on. Choose quality tile for the flooring, and a quality countertop for the vanity. On the other hand, there's no need to spend too much on a fancy toilet.
Don't Forget Storage Needs
Often, homeowners can get so wrapped up in the aesthetics of their new bathroom that they forget to consider where they're going to store all of their bathroom essentials. You'll be much happier if you plan accordingly and give yourself enough storage space for everything you need.
Don't Forget to Think About Water Use
You might want to go all out in the shower with dual showerheads, but remember that your current plumbing may not be able to accommodate this. The more water you need in the bathroom, the larger the pipes will need to be, and the more water the water heater will need to supply. Upgrading these components can get expensive.
Don't Forget About the Future
Does the future involve moving at some point? Then you'll want to take into consideration the value your new bathroom will add to your home. Remodeling with a potential buyer's wants in mind will help you add more value to the bathroom and generate a better return on your investment.
If you're not planning on moving, consider how your needs may change as you age with regard to space. Accessible bathroom remodeling is a big trend right now.
Remodeling Your Bathroom in York
Are you interested in learning more about bathroom remodeling in York, PA? Contact C.C. Dietz! If you're ready to remodel, we're here to help. If you'd like to schedule a free consultation, please contact us by calling 717.755.1921 or visit our website! Also, be sure to follow us on Facebook, Twitter, Google+, and LinkedIn.
Tags: bathroom remodeling York